Schenectady's Mohawk Harbor townhouses go on the market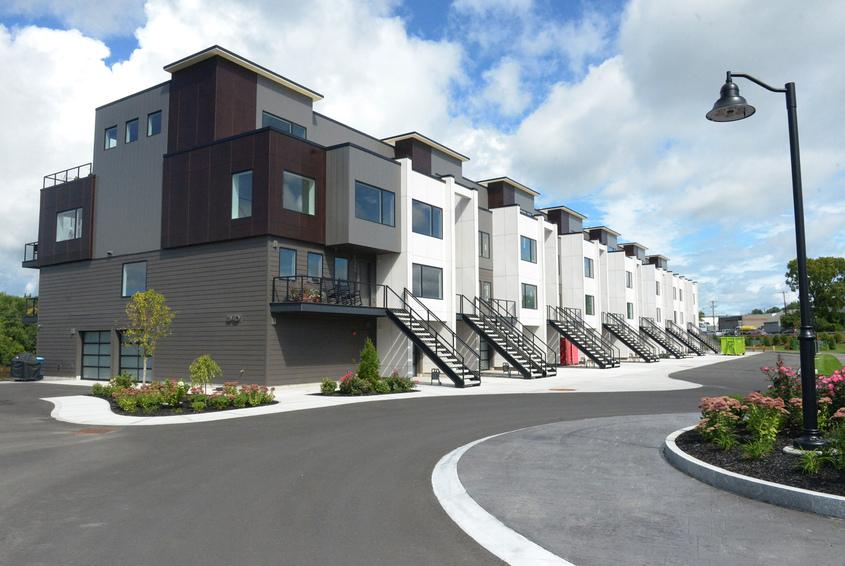 SCHENECTADY — The townhouse portion of Mohawk Harbor is officially on the market.
The 15 units — named The Waterfront — have sat in a suspended state of near-completion for much of the summer and autumn, awaiting state approval of the homeowner's association agreement.
The state Attorney General's Office gave the green light Wednesday. The next step is for the Galesi Group, the developer, to reach back to those who'd inquired about the townhouses during the months when Galesi couldn't market them.
"We've got a list north of 20 people that have expressed interest," said David Buicko, CEO of Galesi Group. "These townhouses I think are some of the nicest in the Capital Region."
The four-level units sit above the Mohawk River on a cul-de-sac of sorts at the northern end of Mohawk Harbor, near Freemans Bridge. Residents will have use of the swimming pool and workout room at the River House, the 206-unit apartment building a few steps south.
The townhouses will be finished to their buyers' specifications and will have a base cost of $550,000 to $750,000, which includes a standard package of components. The price will go up or down depending on number and grade of features that buyers choose, including flooring material, appliances and the optional elevator.
Read the full article here
Cropley, John. "Schenectady's Mohawk Harbor Townhouses Go on the Market." Schenectady's Mohawk Harbor Townhouses Go on the Market, 2018, dailygazette.com/article/2018/12/17/schenectady-s-mohawk-harbor-townhouses-go-on-the-market.
---
Back To All Posts