Latest Renderings of Rivers Casino Released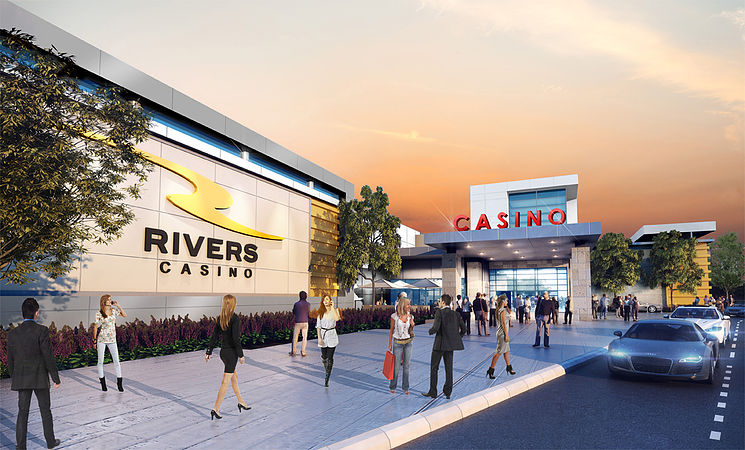 Updates provide more details on the layout and appearance of the casino and its amenities, and outline new aesthetic features aligning to the Schenectady community
SCHENECTADY — The development team behind Rivers Casino at Mohawk Harbor released today updated renderings and floor plans of the property. The updates provide more detail on the layout and appearance of the casino and its amenities.
"Our team has been working diligently to finalize the plans for the new Rivers Casino. I am confident the new layout, design and finishes will make this a premier gaming facility," said Rush Street Gaming CEO Greg Carlin. "We've arrived at a design to complement the City of Schenectady and the Capital Region. We're very proud of this vision and we are looking forward to starting construction."
The updated plans have been submitted to the City of Schenectady Planning Commission for review. They detail designs that reflect the look and feel of the Schenectady community. Also included are landscaping details and plans to build a public walking and biking trail along the Mohawk River, as well as to build a bridge to a deck overlooking the Mohawk River from the casino's hotel.
Rivers Casino is presently preparing to open an Information Center in Downtown Schenectady at 433 State Street, in Center City. While no applications for employment will be accepted at this time, the public will be able to visit the office during established hours to learn more information about the project, as well as visit www.riverscasinoandresort.com to sign up for project updates.
Rivers Casino will be a $300 million gaming facility featuring a 50,000-square-foot gaming floor with 1,150 slot machines and 66 gaming tables. A high-end steakhouse, a "marketplace" with lite fare restaurants, an entertainment lounge, a banquet facility and a spa will also part of the project, as will a 150-room hotel and a parking garage, both to be attached to the gaming facility. Public outdoor open spaces and riverfront walking and biking trails will be part of the project.
Rivers Casino is expected to create approximately 1,200 permanent jobs, in addition to approximately 1,400 construction jobs.
The casino will be located at Mohawk Harbor, a $150 million mixed-use waterfront development. The mix of residential, retail and commercial space will be complemented by a second 124-room hotel and a 50-slip harbor on the Mohawk River and Erie Canal. Mohawk Harbor is being developed by the Galesi Group, and is currently under construction.
-30-
About Rush Street Gaming – Founded by Neil Bluhm and Greg Carlin, Rush Street Gaming and its affiliates have developed and operate successful casinos in Pittsburgh, Philadelphia and Des Plaines, IL (Chicago area). By placing an emphasis on superior design and outstanding customer service, Rush Street Gaming has become one of the leading casino developers in the United States. Its casinos generate over $1 billion in annual gaming revenues, and all Rush Street Gaming casinos were voted a 2014 "Best Place to Work" or "Top Workplace" by their team members.
Rush Street Gaming. Latest Renderings of Rivers Casino Released. Rivers Casino and Resort. N.p., n.d. Web. 9 July 2015.
---
Back To All Posts